St. Thomas Anglican Parish, Chaguanas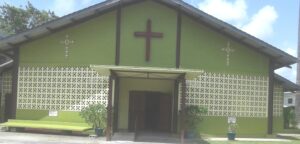 Choose your topic of interest below ▼
---
Matthew 28:
1 After the sabbath, as the first day of the week was dawning, Mary Magdalene and the other Mary went to see the tomb. 2 And suddenly there was a great earthquake; for an angel of the Lord, descending from heaven, came and rolled back the stone and sat on it. 3 His appearance was like lightning, and his clothing white as snow. 4 For fear of him the guards shook and became like dead men. 5 But the angel said to the women, "Do not be afraid; I know that you are looking for Jesus who was crucified. 6 He is not here; for he has been raised, as he said. Come, see the place where he[a] lay. 7 Then go quickly and tell his disciples, 'He has been raised from the dead,[b] and indeed he is going ahead of you to Galilee; there you will see him.' This is my message for you." 8 So they left the tomb quickly with fear and great joy, and ran to tell his disciples. 9 Suddenly Jesus met them and said, "Greetings!" And they came to him, took hold of his feet, and worshiped him. 10 Then Jesus said to them, "Do not be afraid; go and tell my brothers to go to Galilee; there they will see me."
11 While they were going, some of the guard went into the city and told the chief priests everything that had happened. 12 After the priests[c] had assembled with the elders, they devised a plan to give a large sum of money to the soldiers, 13 telling them, "You must say, 'His disciples came by night and stole him away while we were asleep.' 14 If this comes to the governor's ears, we will satisfy him and keep you out of trouble." 15 So they took the money and did as they were directed. And this story is still told among the Jews to this day.
16 Now the eleven disciples went to Galilee, to the mountain to which Jesus had directed them. 17 When they saw him, they worshiped him; but some doubted. 18 And Jesus came and said to them, "All authority in heaven and on earth has been given to me. 19 Go therefore and make disciples of all nations, baptizing them in the name of the Father and of the Son and of the Holy Spirit, 20 and teaching them to obey everything that I have commanded you. And remember, I am with you always, to the end of the age."
---
The parish extends north to Warrenville, east to Caparo, south to Chase Village and west to the Gulf of Paria. Other geographical data such as population are difficult to estimate and a variety of numbers ranging from 70,000-100,000 have been given. The specific boundaries are not known by anyone in the parish.
---
The history of St. Thomas Church shows that it was first located in the area of the present Anglican cemetery. The foundation stone of the first church was laid in 1840 and the church was consecrated on the 21st December 1843. The cost was met from the following sources: £200 Christian Education Committee (CEC); £400 from grants together with £150 from estate proprietors of the sugar company. This structure was repaired in 1851.
The first building at the present location was consecrated in December 1923 by Bishop Anstey. This was situated on an area different from the present location. That church was rebuilt and consecrated by Bishop Rawle on 13th May 1988. That was the last building on the former site at this new location.
Our existing building on the present site was dedicated on the 21st December 1992 by Bishop Abdullah and consecrated on 25th April 1993.
---
The old church which was situated on Church Street, was consecrated on February 12th 1966 by Bishop James Hughes. That foundation stone was laid in October 1965. Electric lights were installed in 1955.
---
St. Hilda's Church was consecrated on 24th June 1913 by Bishop John Welch. It is also stated that this church was located on a different site. There is currently no building at Todd's Road as the old church fell into disrepair.
---
| | | |
| --- | --- | --- |
| Wm. Graham | 1866-1878 | |
| Wm. Keay | 1880-1883 | |
| W. J. Hamilton | 188[4]-1905 | |
| H. A. Todd | 1906-1912 | |
| Newton Davis | 1912-1913 | |
| F. S. Jardin | 191[4]-1935 | |
| G. McEachrane | 1936-1945 | |
| G. H. Gilman | 1945-1947 | |
| Francis Chatfield | 1947-1952 | |
| W. Lamont | 1952-1963 | |
| Richard Law | 1963-1967 | |
| C. J. Beeput | 1967-1981 | |
| Duncan Clarke | 1982-1984 | |
| | 1984-1988 | (administered from St. Paul's) |
| Colin Sampson | 1988-1993 | |
| J. E. Hazelwood | 1994-1998 | |
| John Rohim | 1999-2003 | |
| Michael Chatfield | 2004-2009 | |
| Richard Jacob | 2009-2015 | |
| Eric Thompson | 2015-present | |
---
| | | |
| --- | --- | --- |
| St. Thomas | Mass | Sunday 9.00 am |
| | | Wednesday 6.30 am |
| | | |
| St. Ambrose | Mass | Sunday 6.30 am |
| | | Friday 6.30 am |
---
St. Thomas Church & Office St Thomas Village, Main Road Chaguanas
St. Ambrose Church Old Southern main Road, Cunupia
Land at Todd's Road
New Rectory 29 Serene Gardens, Penco Ave, Longdenville
Cemetery at St. Thomas Village and Todd's Road
St Ambrose ECC Center Jackman Trace, Southern Main Road. Cunupia
---
Bible study

Ambrose Sunday 3 pm
Thomas Monday 7 pm
Schools RI

Happening in our government schools
---
A.C.M.S.
Mothers' Union
Youth Group
Sanctuary Guild
Choir
Servers' Guild
Bible study groups
Lay Ministers      
---
Priest Rev. Fr. Eric Thompson
Deacons Rev Enrique Moore & Rev Claire Sandy Robinson
Parish Clerk: Annette Hoyte