MEG'S Creation
Sunday, April 16 2017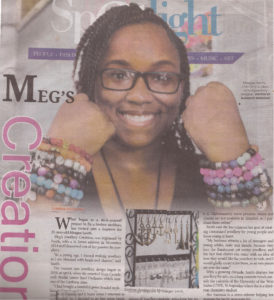 What began as a do-it-yourself project to fix a broken necklace, has turned into a business for 21-year-old Meagan Smith.
Meg's Jewellery Creations was registered by Smith, with a St James address, in November 2014 and blossomed out of her passion for jewellery.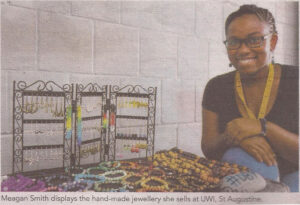 "At a young age, I started making jewellery as I am obsessed with beads and charms," said Smith.
Her venture into jewellery design began in 2010, at age14, when she returned from Canada with Starlift Junior Steel Orchestra which won one of the Caribana titles.
"I had bought a beautiful green beaded necklace in Canada and it burst when I returned to Trinidad. So, I decided to go buy some beads and fix it and when I went to pan practice everyone loved it and right there I made my first sale by selling the same necklace I fixed," Smith explained.
While attending St Francois Girls' College, Smith continued to experiment with designs using semi-precious stones, nylon stretch and fabric stretch cord.
She attended Maurice Academy for Design and Craft in Curepe where she learned the techniques of jewellery-making, unlocking her potential to hand-crafted earrings, chains, anklets, charm bracelets, bookmarks, key chains and statement pieces.
Smith has been to various markets and community events including the Santa Cruz Green Market, Eastern Market, Things TT, South Market, Up Market and church harvests, all of which showcase local talent.
"I also support local businesses as I purchase a lot of my material from Bead Cafe and Craft E Z. Unfortunately, some precious stones and charms are not available in Trinidad, so I purchase them online." Smith said she has achieved her goal of creating customized jewellery for young people and those young at heart.
"My business attracts a lot of teenagers and young adults, male and female, because they love the flamboyant yet rootsy jewellery, and the fact that clients can come with an idea of how they would like the jewellery to look, and I would gladly create it for them, as no two pieces are ever the same." With a growing clientele, Smith displays her jewellery for sale, on a long concrete bench outside the cafeteria of the University of the West Indies (UWI), St Augustine where she is a thirdyear chemistry student.
Her business is a stress-reliever helping her manage the hectic university life.
"Jewellery is something we all can identify with and the pieces my clients choose matches their personality, so I love the feeling of awe and good vibes I convey and receive here at UWI." Smith sells a minimum of 15 bracelets, almost every day, among other handcrafted jewellery.
She is well known on campus, and people fondly call her "Megs" before inquiring about her new designs. How does she finance her business? "Initially my stepfather bought me the tool kits and beads necessary to begin.
However, right now I am at the stage where I am financially stable to fund my business and support myself." Although her business address is St James, Smith creates jewellery at her apartment in St Augustine, and can always be seen with her tools whenever she is selling in UWI.
It takes her around five minutes to customize a bracelet as she has perfected the craft over the years.
Smith aspires to sell her jewellery internationally.
However, her aim after graduating would be to open her first store at UWI because of her customer base on campus.
"I want to see how far I can reach with this." The logo for Meg's Jewellery Creations is a dream-catcher, which Smith said symbolizes her pursuit of her craft.
"I always believe that we should live our dreams, and not fall into doing what everyone else wants us to do. I am supposed to be studying medicine in Jamaica.
I really didn't want to do that and I decided to stick to what I love, which is jewellery designing. The dreamcatcher is a message to my customers, to live their dreams, go out there and catch them." Smith thanks her mother for giving her a reality check that being an entrepreneur would not be easy, as well as her step-father for his tireless support.
Her advice to those interested in jewellery design as a business? "Do not enter this field for the money because you will not make it. In the initial stages of jewellery design I made huge losses before I really understood how to market and sell my products.
This applies to creating any business and with jewellery design you need to invest constantly. This is not a cheap field, so set realistic goals and work towards achieving them." Meg's Jewellery Creations can be contacted via Facebook: Meg's Jewellery Creations and Instagram: MEGSJEWELLERYCREATIONS
Article taken from: http://www.newsday.co.tt/features/0,242420.html