Virtual Youthquake 2020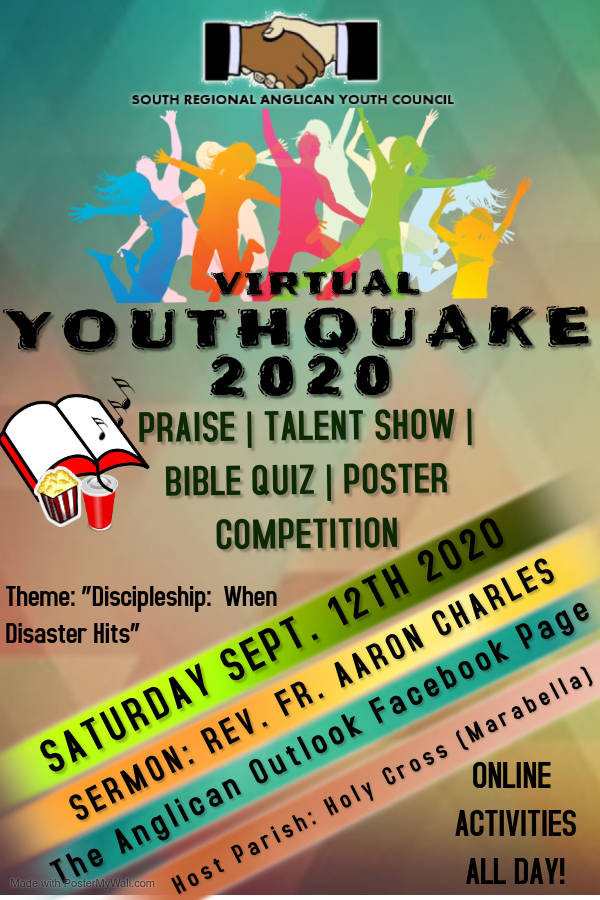 ---
POSTER DESIGN COMPETITION
In the spirit of fun, comradery and friendly competition usually expressed through the annual banner competition, parish youth are being encouraged to display their creativity and design skills in the form of a digital flyer. This must be done using – to the best of one's ability – original artwork. Each parish is being asked to submit ONE poster depicting the name of the Parish, name of Tribe, the Theme: "Discipleship: When Disaster Hits", and an appropriate scripture verse to support.

Be as creative as possible as posters will be judged based on the following categories:
Use of designated Colour – 10 points
Creativity – 10 points
Portrayal of Message – 10 points
There will be two winners announced: one will be selected by the judges based on the highest number of points earned, while the other will be elected 'People's Choice' based on the responses given by those on social media.

Parishes are being asked to submit their entries to diocesettit@gmail.com no later than Monday 07th August, 2020.

Please see colour and tribes designated to each Parish:

PARISH / TRIBE / COLOUR
Grace Church (New Grant) / Naphtali / Rose
Holy Cross (Marabella) / Gad / Grey
St Andrew (Couva) / Zebulun / White
St Augustine (La Brea) / Simenon / Green
St Barnabas & St Peter District (Pointe-à-Pierre) / Ephraim & Manasseh / Green
St Christopher (Siparia) / Judah / Turquoise
St Clement (Ste Madeleine) / Dan / Sapphire
St Faith (Rio Claro) / Issachar / Black
St Mark (Point Fortin) / Levi / Navy Blue
St Paul (San Fernando) / Reuben / Red
St Stephen (Princes Town) / Asher / Aquamarine
---
VIRTUAL TALENT DISPLAY
As is customary, a talent show would thereby ensue when the sermon is over. Given that this will also be done virtually, young persons of the parishes are also being encouraged to submit videos of themselves showcasing their talent through dance, singing, spoken word, etc.

Submit these videos via email to diocesettit@gmail.com or via WhatsApp to Mellissa Lewis- 342-0038 no later than Thursday 10th August, 2020. This is to facilitate editing and compilation. Please be sure include the name(s) of the person shown in video, as well as the name of the piece being presented.

There will also be a live segment of the talent display that will allow for those willing to perform in real-time to be accommodated. These performances can be done from the comfort of your home, via a strong and stable internet connection.
---
BIBLE TRIVIA
For the final segment of the programme, you are being asked to tune in to our first ever Zoom Youthquake Bible Trivia! Encourage one another to participate in a virtual game that promises to be both enjoyable and edifying. Hosted by the Revd. Micheal Lawrence and Revd. Jean- Paul Henry, registered participants will vie for the title of Bible Trivia Champion!

Deadline to register for Bible Quiz: Friday 4th September, 2020
---