Heartbreak for Anglicans: Losing 2-3 to the Roman Catholics
On Saturday 29th July 2017 while Real Madrid was doing battle with Barcelona in Miami, USA. A similar not-so-clásico match was brewing at Irwin Park, Siparia. Traditionally, this clash occurred long ago as part of the St. Christopher Rally each year. St. Christopher Parish Priest, Rev. Fr. Aaron Charles seeks to revive this tradition to foster friendly competition, ecumenical unity and community spirit.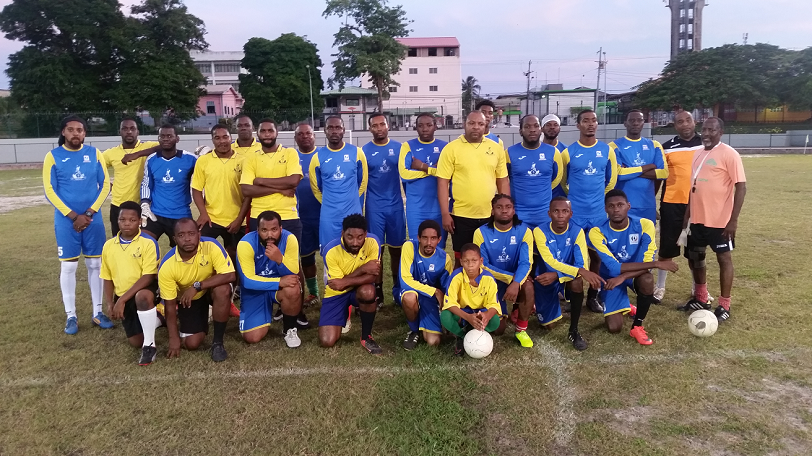 The Anglican Team led 2-1 until the last 20-minute quarter. They only have themselves to blame as they threw away a series of clear-cut chances. The Roman Catholics were rampant in the last quarter and the weary Anglican Team had no answer.
⚽ The goal scorers for the Anglican Team were: 1. Roger Reid 2. Kezron Adams
⚽ The goal scorers for the Roman Catholic Team were: 1. Chris Collins, 2. Anthony Haynes, 3. Denzil Ryce
The game was well supported. Among the supporters were Trinidad and Tobago Anglican Diocesan Youth Director, Ms. Sharon Lamy and South Regional Anglican Youth Nurturer, Mrs. Susan Hosein-Cadogan. The Anglican Team featured players such as South Regional Anglican Youth President, Micheal Lawrence, St. Faith (Rio Claro) Youth leader, Kyle Carabon and Rev. Charles did not shy away from taking a knock. The dreadlocked priest was solid at the back for Team Anglican and his absence was certainly felt in the closing minutes of the game.
After the game, the Cadogan family treated both teams to a meal. This brought a fitting end to a game that was filled with twist and turns. The game was arranged by Mr Steadman Cadogan assisted by the members of his family Susan and Swayne-Leo Cadogan. The activity was sponsored by Alderman Christopher Encinas, C.E.O. of MAXCO LTD.
Article written by Kyle Grant