Dependency Syndrome Must End
Marlene Augustine Monday, July 31 2017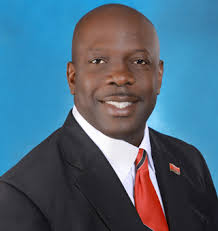 Those in leadership positions need to do more to wean citizens off of an acute dependence on State assistance, former Minister in the Ministry of Community Development, Culture and the Arts Dr Lincoln Douglas said yesterday.
Speaking at a service to commemorate Emancipation Day at the Holy Trinity Church in Portof- Spain, Dr Douglas said, "We have a legacy of slavery, colonialism and post-colonialism, and all of these ideas and things have not left within the minds of Trinidadians. A philosophy of dependency, of begging, of waiting of anticipating of hoping and not taking the initiative to transform their lives or to make a major change." He continued, "That is one of the things our leaders have not properly addressed or have not addressed the culture of the people. How long are we going to depend on oil or gas? Those are finite commodities. What we have to do is build-up our people, have a creative education system that teaches our people to make things or products, how to live and create a place that is really meaningful." Douglas told the congregation that leadership is not what you can do for yourself or what you can get for yourself, but to move in the progression of freedom which goes from salary to independence to inter-dependence.
"Inter-dependence is when we reach the place beyond independence that says we all need each other. We need to work with each other in order for all of us to be totally free and that is not a value that have inculcated that we have bread in the whole of society." Douglas said leaders have to demonstrate to the people that they have to go beyond just fighting for money, wealth and fame. He said leaders have to build a society that deals with respect, recognising each other, acceptance and learning.
"Being able to learn and grow with help our people so that we could produce creative things that we can sell to the rest of the world. These are the kind of things that we have not been thought so people are resorting to a kind of scramble to the end. That is a nature of an enslaved society…
each man for himself, and who can kiss up to the master to get the best for himself." Douglas said freedom is a choice, but as individuals, people have to make a choice to be free.
"It is not a given, but it is a choice. Even after the slaves were set free, a lot of them remained on the plantation and they did not know what to do as to how to liberate their lives. The process of educating yourself I and also becoming skilful is a process to live in community, that is how you empower yourself to live in a free world."
Article extracted from: http://newsday.co.tt/news/0,247087.html