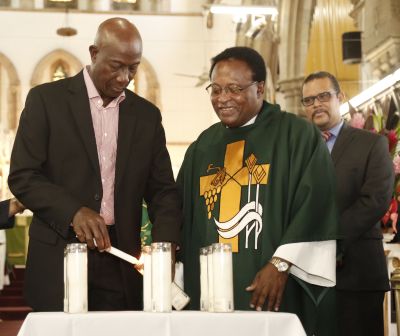 Prime Minister Dr Keith Rowley has again appealed to T&T citizens to give whatever little they can to assist those countries ravaged by recent hurricanes in the Caribbean.
He made the appeal while delivering the keynote address at a remembrance service held for the citizens of Dominica, Barbuda and other countries affected by Hurricanes Irma and Maria at the Holy Trinity Cathedral, Port-of-Spain, yesterday.
Rowley, who also did the first reading from the Book of Exodus, said while people were living in different islands in the Caribbean "we were all brothers and sisters" and urged that everyone become their "brother's keeper" especially when faced with natural disasters, as the Caribbean was particularly susceptible to this.
He said T&T must be grateful it was spared from devastation and said citizens must have compassion for those whose lives were negatively affected by the hurricanes.
"There will be days when we are called upon to help others and in T&T we are always prepared to be called upon. We are our brother's keepers and all those who look to us, we may not be able to solve all their problems but what little we have it can be shared," Rowley said.
The PM also mentioned 64-year-old Melan Salvary-Doyle and her three-year-old grandson Olivier Doyle-Gedio, who both died in St Maarten. Salvary-Doyle had gone on vacation to see her daughter and grandson when Hurricane Irma struck St Maarten and was swept away by a wave as she tried to save her grandson.
He said against the background of other countries having to bury many dead we must see there is the need to help those affected.
The PM also shared his own hurricane experience as a little boy growing up in Tobago, adding that to date he remembered the kindness of others.
"The people of St Vincent at that time didn't have much to share but they had a lot of breadfruit. They roasted them and sent them to Tobago at a time when we couldn't feed ourselves. I will never forget that," Rowley said.
In singling out the youths from Dominica who found shelter temporarily in this country, Rowley wished them a "special welcome" and encouraged them not only to have found memories while here but also to do well in their endeavours, especially in education.
Rowley gave the example of former Chief Justice Cecil Arthur Kelsick, who was born in Dominica but became a shining example of this country's achievements in the field of law.
The PM, along with several members of the diplomatic core, later lit candles in memory of those who lost their lives during the tragedy.
High Commissioner for Jamaica David Prendergast, who agreed with Rowley that the Caribbean was one close-knit family, called for greater solidarity among countries, especially in times of adversity.
Costa Rica's ambassador to T&T Lilly Edgerton said she could not express in words her heartfelt thanks to this country for assisting and to the Anglican Church for keeping countries like Costa Rica in prayer. Edgerton said while her homeland was a "resilient" country it would take time to rebuild.
At least 22 people were killed when Tropical Storm Nate pummelled Central America with clusters of heavy rain and gusty winds.
Mexican Ambassador Jesus Lopez, who also spoke, said his country was still reeling from the effects of natural disasters, but like the Caribbean, which has shown solidarity, was thankful that both the Caribbean and Latin America had lent helping hands.
Dean of Consular Corps of T&T and Honorary Consul for the Bahamas, Dr E Monica Davis, said the Bahamas was still feeling the effects of hurricanes which swept the islands in 2015 and 2016, adding that aid from other countries greatly helped in rebuilding efforts.
Published: Monday, October 9, 2017