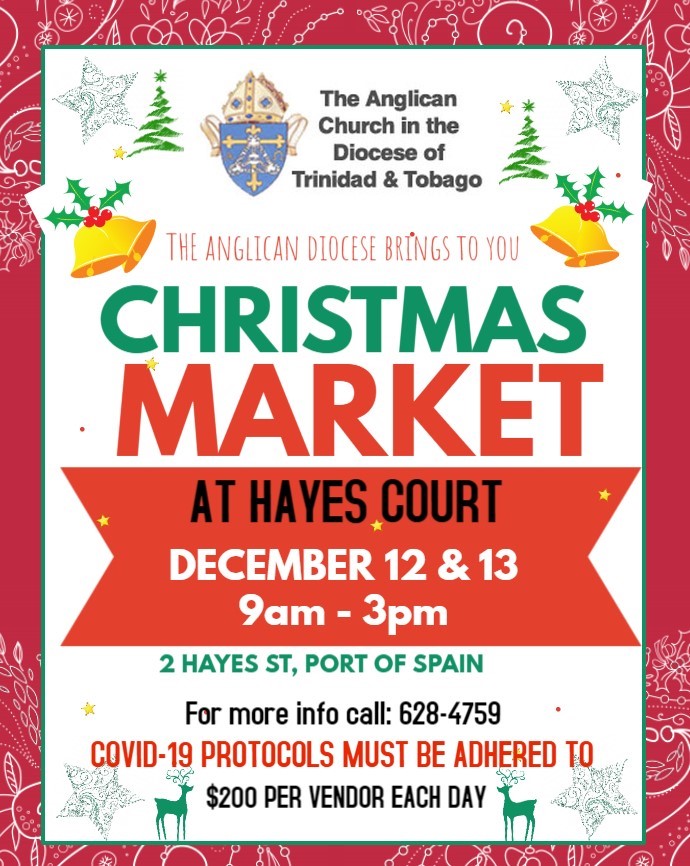 Date: Saturday 12 & 15 December 2020
Time: 9AM-3PM
Location: Hayes Court, 2 Hayes St., Port of Spain
$200.00 per Vendor Each Day
COVID-19 Protocols MUST be adhered
For more info call: (868)628-4759
---
Frequently Asked Questions
1) How do you get a stall?
To get a stall please call the number on the flyer and we would advise how payment can be made. Once payment is made your attendance would be confirmed.
2) What type of stalls?
The Diocesan Buildings and Lands Committee is keen on supporting the Anglican Communion to navigate some of the financial pitfalls consequential to the protocols established due to the Covid-19 Global Pandemic.This initiative is to provide members of the Faith with an avenue to market their merchandise.
3) Is food allowed?
Food is allowed as long as persons have their food badge displayed.
4) Does the location have electricity or do I have to walk with a generator
Electrical outlets are not available on the compound.
5) Are tents provided or do I have to rent one from the organization?
Tents would be provided and each vendor would have the use of one table and two chairs.
6) If I am not an Anglican can I sell?
The initiative was intended for members of the faith however all persons are welcome.
7) What percentage do I have to contribute?
No percentage is necessary. Each vendor would pay $200 per day for use of the facility.