We are delighted to inform you, The DIA Lab Programme is now in its second year and persons between the age group of 16-34 years are invited to join and be a part of this life changing experience. At the end of the programme, successful participants graduate with a certificate of participation.
Cohort 6 is scheduled to start on 21 August 2022. Interested persons are invited to sign up via link https://forms.gle/1M6ipj4fZEqycvH67
The programme curriculum is delivered utilizing a blend of technology platforms. Participants are trained in both the theory and practical aspects in the areas of Innovation and Entrepreneurship, Life Skills, Business Model Canvas, Financial Literacy, Digital Literacy, Data Science, Computer Science, New Technologies including 4IR technology and Intellectual Property.
The programme will be delivered online via zoom and google classroom, weekdays from 9-12 noon and one in person exercise in the DIA Lab located on the compound of CARIRI's Centre for Enterprise Development (CED), Innovation Avenue, Freeport. The lab is outfitted and furnished with up to date, innovative, state-of-the-art equipment such as Laser Cutters, Arduino Kits, Raspberry pi, Sensors and Microprocessors, 3D Printers and much more.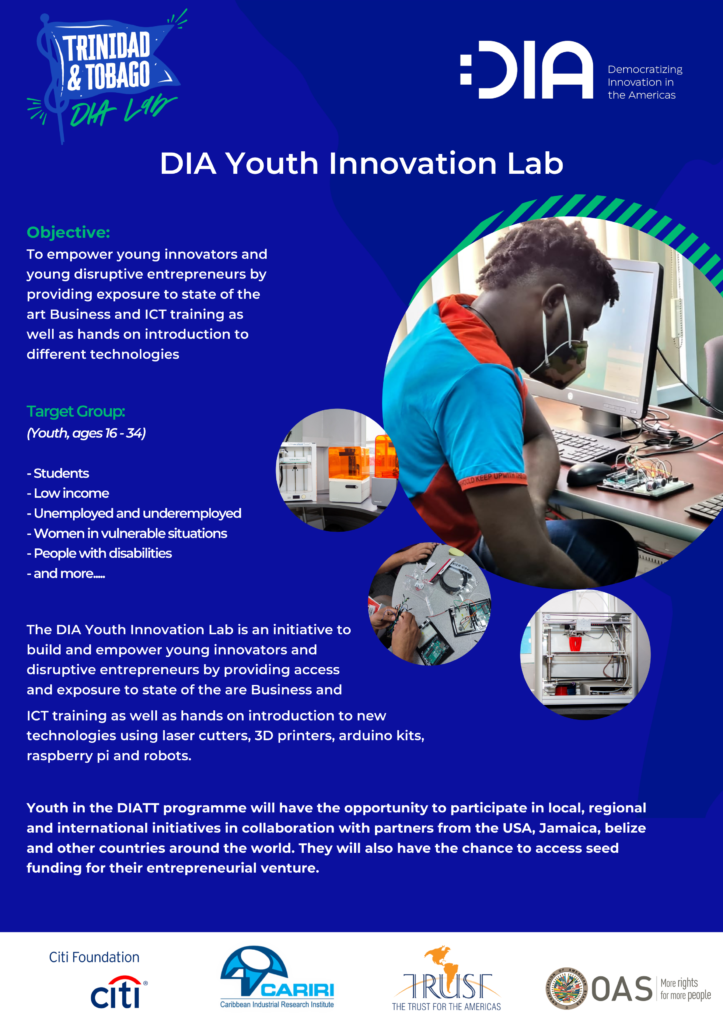 During the DIA Practical Workshops, participants are taught the fundamentals of the evolution of manufacturing with hands-on experience using versatile pieces of equipment which can aid entrepreneurs and businesses with branding, packaging, and small-scale automation. Participants are afforded the opportunity to design, build and test their ideas.
The DIA Youth Innovation Lab Trinidad and Tobago is a collaboration between Trust for the Americas (TRUST), Organisation of the American States (OAS), Citi Foundation with the Caribbean Industrial Research Institute (CARIRI) as the local partner.  To learn more about DIA Innovation Lab T&T visit  https://dialabtt.cariri.com/